Exhibitors
Ederna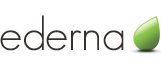 Today, concentrating liquid food products and ingredients consumes substantial quantities of energy and/or results in product degradation, usually related to heat, sometimes vacuum.
Following more than five years' intensive research, EDERNA has developed and refined the innovative EVAPEOS® process, the Eco Alternative to Evaporation. Forward osmosis concentration process using membranes offers very high levels of retention of flavor, aroma, and molecular activity while having no impact on color. Vitamins, antioxidants, anthocyanins, flavonoids, etc., are protected from substantial reduction by very low heat in the process. Absence of vacuum ensures that aromatic volatiles are not lost.
Unlike other membrane technologies, pressure is kept to below 2 bars, greatly reducing fouling and simplifying cleaning. Operating temperature as low as 10°C protects thermolabile products.
Energy costs are reduced by 40-98% compared to other processes and EVAPEOS can be used as a precursor to spray- or freeze-drying, maintaining quality and substantially reducing operating costs.
« Go Back