Speaker
Da Wen Sun, National University of Ireland, Ireland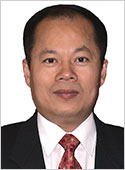 Born in Southern China, Professor Da-Wen Sun is a world authority in food engineering research and education; he is a Member of Royal Irish Academy, which is the highest academic honour in Ireland, a Member of Academia Europaea (The Academy of Europe) and a Fellow of International Academy of Food Science and Technology.
His main research activities include cooling, drying and refrigeration processes and systems, quality and safety of food products, bioprocess simulation and optimisation, and computer vision technology. Especially, his many scholarly works have become standard reference materials for researchers in the areas of computer vision, computational fluid dynamics modelling, vacuum cooling, etc.
Results of his work have been published in over 700 papers including about 350 peer-reviewed journal papers (Web of Science h-index = 53; Google Scholar h-index = 66). He has also edited 13 authoritative books. According to Thomson Reuters's Essential Science IndicatorsSM, based on data derived over a period of ten years from ISI Web of Science, there are about 2,500 scientists who are among the top one percent of the most cited scientists in the category of Agriculture Sciences, and in the past many years, Professor Sun has consistently been ranked among the very top 50 scientists in the world (he was at the 31st position in 2010).
« Go Back