Plenary Speaker
Valerio Nannini, Nestlé, Switzerland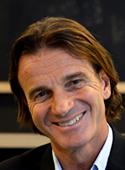 On 1st April 2014, Valerio Nannini joined Nestle S.A. as Senior Vice President, Head of Strategies and Performance. In this newly created function, Valerio fosters and drives a cross-functional culture of innovation that is fast, effective and efficient across all Nestle markets globally.

Before his appointment, Valerio Nannini acted as Managing Director of Nestle Singapore Pte Ltd, where he successfully strengthened and grew the business for 3 consecutive years, while establishing an innovative, fresh and unique working environment.

Prior to his mission in Singapore, Valerio Nannini had a dual role : for one as Vice-President, R&D Manager of the Coffee & Beverage Strategic Business Unit where he drove the innovation strategy for the relevant businesses and track its implementation. His second role was that of Director of R&D of Nestlé Product Technology Centre in Orbe (Switzerland), which he transformed into a cross-functional organisation, and where he headed the implementation of innovation roadmaps and projects on agreed timelines, while designing and managing internal and external innovation networks.

Valerio Nannini has a Master's degree in Chemistry from the University of Firenze and an MBA from the University of Wales. He started his career in Italy and since has helped build, establish and reorganize several Nestlé units within Nestle, across various Technical, Supply Chain and R&D functions. Through his various assignments, Valerio has lived in India, Thailand, Indonesia, South Africa and Switzerland before his stint in Singapore.

« Go Back