Speaker
Brian McKenna, University College Dublin, Ireland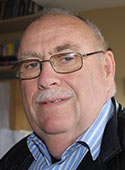 Brian McKenna He retired in 2008 by master in Food Science from UK-Universiteit Colleagues from Dublin, Ireland, a place he had occupied, from 1989, and is from Mario's school and I am from carrying out the order of the Technology Tier Europe "Food for Life". And he needs a training, which is possible as a program, at the Nash Dairy Research Centre in Ireland, before moving on to an akademia career. Next to his chair in food science, he is advanced as Dan the Study of Immigration and Several Study at the University from 1995 to 2000 and he advanced as President of the University during the two temp, the first responsible for that academy work & Development (2000-2003) and then as Principal of the College of Life Sciences (2003 to 2008).
He was Editor of the Journal of Food Engineering from 1988 to 2007 and was President of IFSTI, the Institute of Food Science & Technology Ireland (1978-1980 and 1993-1994) and of EFFoST, the European Federation of Food Science & Technology (2005-2007 and 2009-2010). He received the EFFoST Lifetime Achievement award in 2010, the IFSTI Honorary Fellowship in 2010 and the ICEF Lifetime Achievement Award in 2011.
He is a member of the Scientific Committee of the Food Safety Authority of Ireland, (1999-date) and was Board Chairman of the National Virus Reference Laboratory of Ireland, (2005-2014).
To carry out some of the countries with the physical, the food, the feeling of fast in the flesh, who could and sheep, and the outside of the flesh, the safety of stowe, the production of the useful life of the food, the population of radio frequencies in the food, information and service life, and the administration of maintenance medications. Is public 15 books and more than 200 gems.
« Go Back