Speaker
V.M.(Bala) Balasubramaniam, The Ohio State University, USA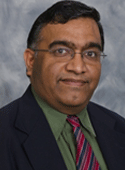 Dr. V.M. (Bala) Balasubramaniam is Professor of Food Engineering in the Department of Food Science and Technology and Department of Food Agricultural and Biological Engineering, The Ohio State University (OSU), Columbus, OH, USA. 

Dr. Bala's research focus has been application of engineering principles in the development and evaluation of  industrially relevant, sustainable, food preservation methods (including high pressure processing (HPP), pressure-assisted thermal processing (PATP), pressure-ohmic thermal processing (POTP), and high pressure homogenization(HPH)). Such methods have the potential to satisfy health conscious consumer demand for mildly processed foods. Dr. Bala teaches courses on principles of thermal and nonthermal processing.
 
Dr. Bala published about 82 peer-reviewed journal articles, 14 book chapters, 4 food processor factsheets on alternative technologies, and 170 technical presentations.  Dr. Bala co-edited Wiley-Blackwell IFT Press book "Nonthermal Processing Technologies for Food" and a forthcoming Springer book "High Pressure Processing of Food - Principles, Technology and Applications".   Dr. Bala is the lead inventor of pressure-ohmic-thermal processing (POTP). POTP combines the advantages of high pressure and ohmic heating with potential application to preserve extended shelf life (ESL) and shelf-stable foods.

Dr. Bala serves as an editorial board member various journals including Journal of Food Process Engineering, Food and Bioprocess Technology and LWT Food Science and Technology. Dr. Bala is one of the founding members of the IFT Nonthermal Processing division and served as chair (2010-11). Dr. Bala and his colleagues hosted 2014 International Nonthermal Processing Workshop which attracted about 175 participants from 24 countries  (http://u.osu.edu/osunonthermal/)

Dr. Bala has received various awards for his industrially relevant work including 2011 Ohio Agricultural Research and Development Center (OARDC) distinguished research award, 2008 Gamma Sigma Delta Research Award of Merit and 2006 Hormel Spirit of Innovation Award. Dr. Bala is a fellow of Institute of Food Technologists (IFT). 
« Go Back